While I was going there to meet Diane, I decided to spend some very rainy days in Paris. We drank blue tea and ginger lemonade and ate black cherries and she suggested me to go visit

Madame Grès

, La Couture à L'Oeuvre, certainly one of the most remarkable retrospectives I've ever seen. Madame Grès' masterpieces were disposed among other sculptures at Musée Bourdelle; and

that highlighted

both the delicacy and majesty of their structures. The artist's devotion and resoluteness shone through the cream and orange of the gowns, stronger instead of shy while surrounded by all these marbles. Madame described herself as a sculptor, and the reason is obvious now: the pleats draw themselves on the fabric like glacial striations on rock, with the patient, perfect, inexorable power of a natural force.
Then I went to Hussein Chalayan: Fashion Narratives at Musée des Arts Décoratifs. Although it may lack the proud motherly spirituality of last year retrospective at Istanbul Modern, and despite the crowd you will meet if you have the bad idea to go there on Sunday afternoon; it still was a stunning display of all the most memorable pieces, in all those various mediums Chalayan is well known for playing masterly with. Sketches were there too, and that splendid golden Floating Dress which in 2010 wasn't born yet.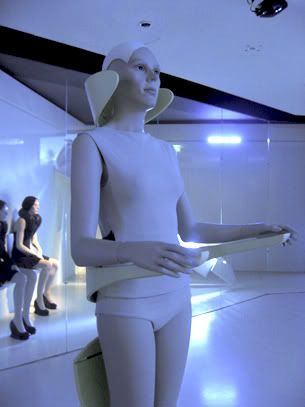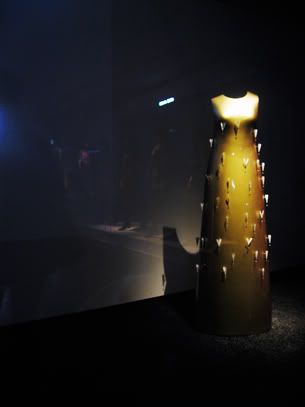 The Floating Dress is fruit of a collaboration with Swarovski, and part of fw 2011 collection Kaikoku. As in the Visitor's Guide, Fifty crystal "pollens" preciously decorate the dress and can be released by the wearer to float in the air symbolizing the pollination of ideas and the quest for a new beginning.
It isn't of course Hussein first collaboration with Swarovski, whose stable alliance brought to life legendary pieces as the Bubble Dress or the LED Dress. One often forgotten though is the art installation Repose, that I had the pleasure to see in Istanbul. An aircraft wing protrudes from the wall, its flap slowly sliding down to teasingly show just a little glimpse of what may be lying underneath: a long strip of dazzling bright crystals, an alluring challenge to leave, take that seat on the plane and fly away, towards the future.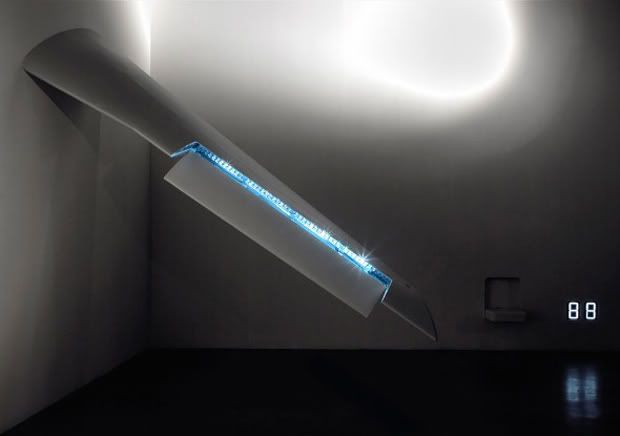 via
swarovski.com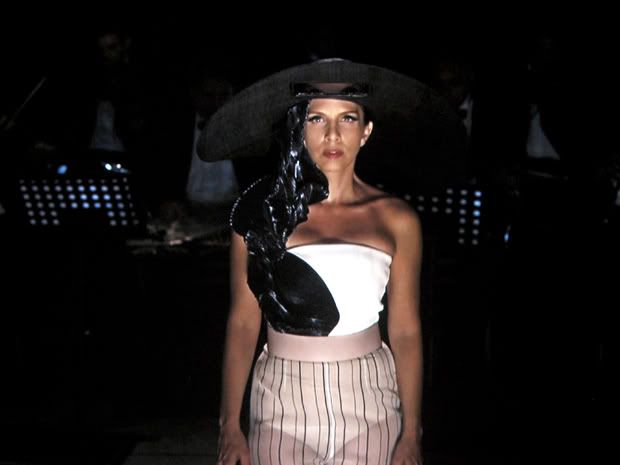 In the multimedia installation I am sad Leyla, Turkish pop artist Sertab Erener interprets the song "Uzgünüm Leyla" composed in 1940 for the Egyptian film "Leyla and Mejnun". The film is based on the true story of a young man, Qays ibn al Mulawwah, who lived in the northern Arabian Peninsula in the 7th century and falls passionately in love with Leyla. he goes mad when her father prevents him from marrying her and she betroths another man.
Another place I had long wished to visit was Zaha Hadid's Mobile Art Pavilion, and it finally landed somewhere I could reach. I was so thrilled when I got there I almost couldn't get in. Hadid is so inspiring and clever and strong, and when I came out of the Pavilion, currently hosting her own exhibition Zaha Hadid, Une Architecture, I was pretty sure I was going to start all over again and become a decent architect at least.
What else? Oh, I strongly recommend Carmen Ramirez Corps dédoublés at Galerie 13 on rue du Mont Thabor. Her empty clothes with embroidered wounds and hanging tongues deal with issues like communication barriers, scars, and the duality between visible and invisible.
"I don't want to be known as the granddaughter of the Hiltons. I want to be known as Paris."