Ok, so today it makes four month I haven't written here, and that was bad beyond excuses. I am currently living in Bristol (UK), grinding on the last works for that Erasmus program which kept me distracted from here for oh so long (but I bet you can understand). I've been part of the production teams of two short movies, and I directed my own theatre performance as well, which was melodramatic enough before we decided to show it in a crypt. I am actually blithely proud of it all, even if etc. By the way, still lots of interesting things happened in the world the meantime, and I guess we should spend a moment to sum it up, shall we?
Let's start from some exhibitions you shouldn't have missed because this would be well, pretty sad.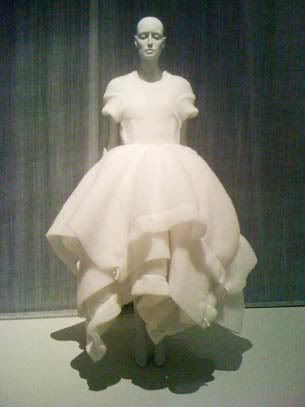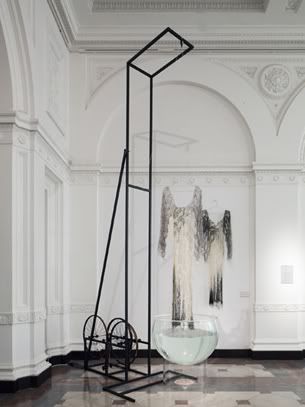 Comme des Garcons, 1990 and Helen Storey "Say Goodbye", 2010 via
fadeto.c5c5c5
and
phaidon.com
I've been in love with this dress since ever and seeing it alive in front of me moved me ridiculously. It's good news it still exist because it means I could still wear it for my wedding. I was surprised it survived two decades though, because it looks kind of perishable, oh, but in a good way, like in a haute Decadent way. Not as perishable as the second one anyway, which really lasted briefly.
Nijinsky as Faun via
irenebrination
and Patti Smith portrait by Robert Mapplethorpe via
ihategracefulpeople
Then there were
Nijinsky at V&A
and
Robert at C/O Berlin
, two aspects of the gay culture evolution we would definitely want to keep an eye on. I could go to Berlin during Easter holidays for just four days, when I also managed to attend that
IAMX concert at Astra Kulturhaus
. it was a very quick and very gay Easter trip indeed. I chose a Patti Smith portrait not just to annoy those of you expecting hardcore to introduce Mapplethorpe (I'm a fan of hardcore too), but because I was wondering how this lucky girl could have moved in just one life from being Robert Mapplethorpe's muse to being Ann Demeulemeester's one. And she managed to do some stuff on her own too.

Patti Smith wears Ann Demeulemeester via
takeadragortwo
and
powerlinead
(Now I don't mean to go off topic but I can't unsee.)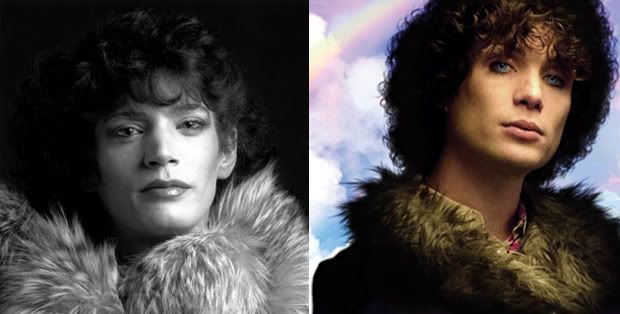 Robert Mapplethorpe self-portrait, 1980 via , and Cillian Murphy in Breakfast On Pluto, 2005
Then finally something that is
still on
and you should definitely hurry up and visit now. I was dying to go again and attend that lecture on
June 26th
, bring
My Dear Bomb
with me and get a very autograph as a proper fangirl, but it's sold now and it's such a shame. I guess they have never been really available, tsk.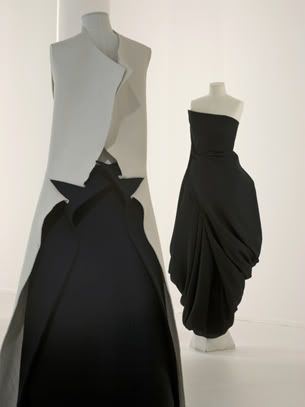 via
dezeen.com
I stood for 44 minutes in the middle of it all just to watch the whole Spring/Summer 1999 video. The collection was about wedding and it really made me change my mind. Apart from some
rare exceptions
like above I had never really cared about wedding dresses before, usually finding most of them prehistoric and queasy. This collection was like an epiphany, no seriously. And it also made me realize how sadly lame was instead
Viktor & Rolf Fall 2010
. You can see a similar idea developed into poetry and elegance by Yamamoto and just into spectacle by Viktor & Rolf. After twelve years, you could still marry wearing one of Yamamoto's wedding gown, ad you would be lucky to.

via
bessworks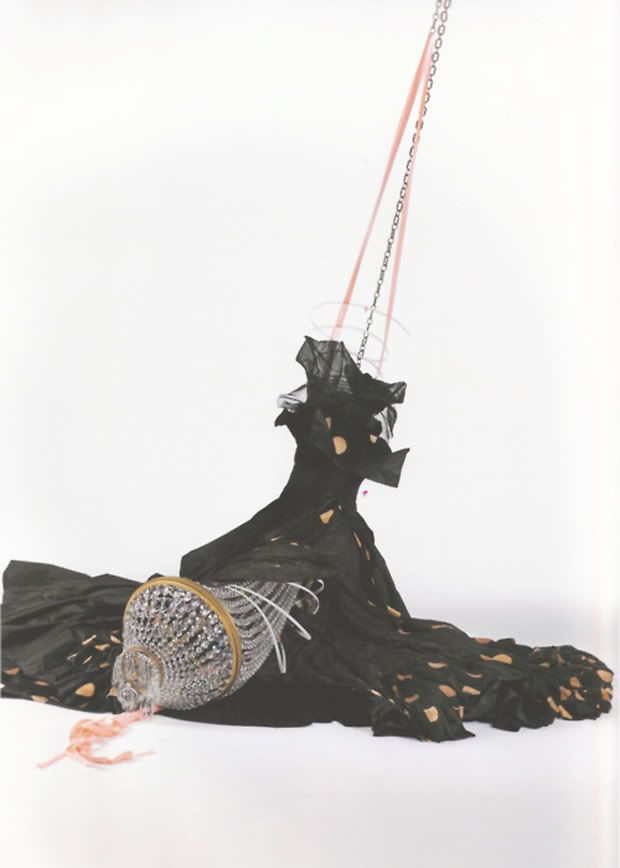 Gotscho, "Robe X Lustre" featuring black silk dress with gold dots by Yohji Yamamoto Spring/Summer 1999 via
notmyshoot
Ow, now I want to wear this, while, .

Véra Chytilová, "Sedmikrásky" 1966 via
tumblr
I wonder if something happened recently that made me grow so interested in bride dresses. Uhm no, I can't think about anything. As pretty as they can be, they won't be as much as
Jeremy Young and Sara Blomqvist
(a recent crush of mine, but Jamie Bochert + Michael Pitt is still on top), and I will wait about fifty years to call them the couple of the century.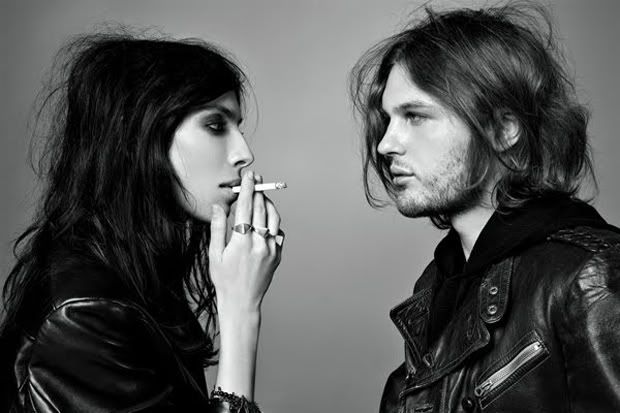 Jamie and Michael by Steven Meisel via
billybride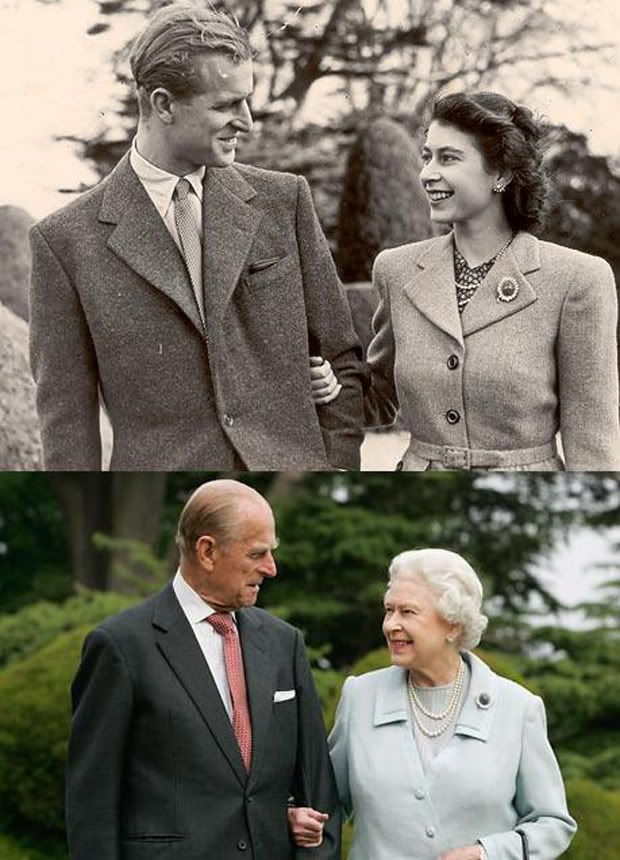 the couple of the century, via
tumblr
I swear I saw a pizza whose dressing were arranged to draw Kate and William's portrait. Now that was creepy.
Let's move now from the royal palace to those fertile British streets where it seems that everything could grow. And it does. I took these during London Fashion Week. The runaway I saw wasn't remarkable but the crowd totally made it worth it.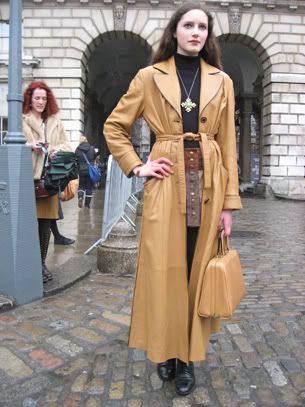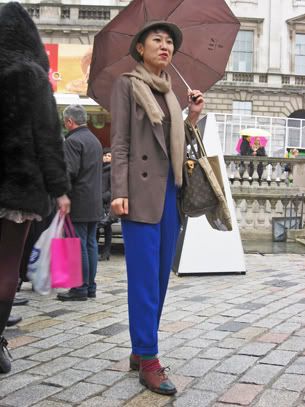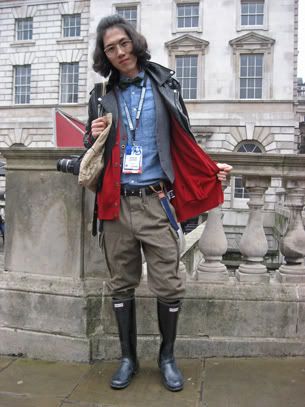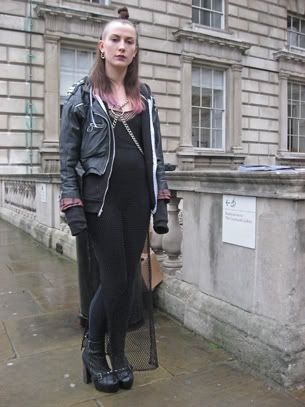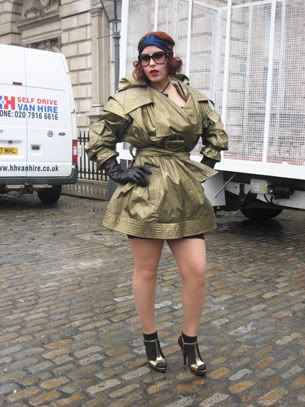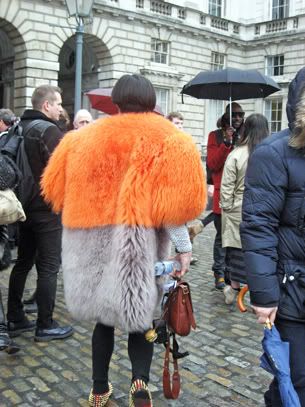 who said Louise Gray fur coat wasn't easy?

via
javalunamyth
Anything else? Well let me think, we had to witness the bizarre arising of Lindsey Wixson's career, we dealt with it and now we like her,
oh yes we do
. Andrej Pejic was named by FHM
98th sexiest woman in the world
, and his bare chest
cover
for Dossier by Collier Schorrhas been censored as porn. And most shocking of it all, we will soon be wearing
Capri pants
again.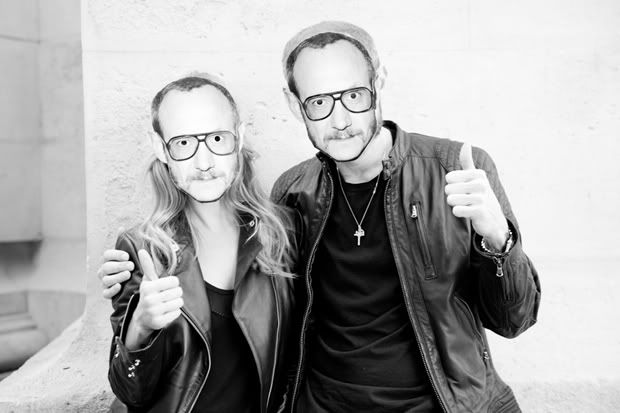 via
terrysdiary