Art and fashion have forever been intertwined, I know that, you know that, it's nothing new. I've been asking myself why does this keep happening, from Schiaparelli to Kusama and all over the world. It isn't just an issue of supporting each other and advertisement in times of crisis, nor is it just to show the audience their artistic sensibility: those buyers who didn't care won't care still, and those people who thought fashion was trivial will most likely stick to their opinion. Fashion claims to be an expression of creativity itself, and its haters distrust may annoy but won't threaten it. Let's move to the artists' point of view: sometimes they are already very famous or way too old to actually care so much about improving their sales. So here's what I think. I think it's mainly an issue of durability, a way for the designers to escape that seasonal wrecking of their work that comes with glory in the fashion system. I'm reading now Yamamoto's "
My Dear Bomb
", and I can tell this is something that disappoints him too. Actually I think just a personality like Karl's could actually find it exciting. Working on something that will be considered more than just a trend, that's a wish shared by many and that's also what a collaboration with fine arts could do (in Yamamoto's case it was with the movies, notably working with filmmakers
Wim Wenders
and
Takeshi Kitano
). Art is timeless. At the same time, that load the art piece with responsibility. It won't disappear in a couple of season, and even if you destroy it your action will be probably considered as an art work itself. There is no way out, your art, when you reach fame in the art field, will last longer than you. I think the ephemeral life of the fashion piece could be tempting for an artist. More than that, it could provide the artwork with a sense of usefulness, a power to influence outside the reverent silence of the museums and the words of the expert, something to be seen and discuss by normal people, to be envied, to be copied, to be forgotten; and that's a trend.
During my brief Easter visit to Berlin I went to
Tacheles
to check on that guy,
Tim Roeloffs
, who worked with Donatella for her fall 2008, bringing his polemical-funny collages on Milan's runaway. Having had the chance to see his place even before that collaboration, I was pleased to notice that nothing really changed, a small press cutting pinned to the wall everything left from that winter. Prices didn't raise, the dust and the scent of cheap beer were still there. Money and success don't change everybody, I reckon we're too easy to judge and too filled with ethics when it comes to other people's moment.
via
lauren-sadie
and
style.com
"I've been wearing the same clothes for the last 20 years, and I know nothing about fashion. I think they expected to meet someone in a suit. But I was very impressed with the result as I didn't know how they planned to put photo-montages onto clothing. They did it very well and still maintained the dimensionality that's in my work."
"I arrived [in Milan] in such a chaos by train because I brought my two dogs, three kids and my wife with me. Of course, there was a limousine to pick us up and it was really like coming from the gutter to being at their level."
More recently, no less than
Walter Van Beirendonck
agreed to work with
Erwin Wurm
on a series of
Performative Sculptures
you still have the chance to meet at
Middelheim Museum
on August 6th at 8PM and September 25th at 4PM.
via
dianepernet
This was probably the partnership that worked better on me, I must admit I never really cared about
Marras
until I saw this editorial featuring the artworks from Efi Spyrou on POP's last issue. I am now convinced that nothing works better on the theme of memory than Antonio's designs.

Ymre Stiekema in Antonio Marras and Kenzo spring/summer 2011. see the whole editorial here
But apart from these, I found that nowadays alliances have involved modeling artists, a clear response to all that youth we see on the catwalk.
You might not be in your teens anymore, but if you have developed a strong enough personality my clothes will suit you all the same
.
Gillian Wearing wearing Balenciaga, 2011, and Louise Bourgeois wearing Helmut Lang, 1997
see whole Gillian's
here
, Louise via
belindablog
We already talked about
Ann's fascination for Patti Smith
, but the girl needs a muse for her menswear line too, to keep designing these
great collections
we've been enjoying lately. Who better that
Lawrence Weiner
then.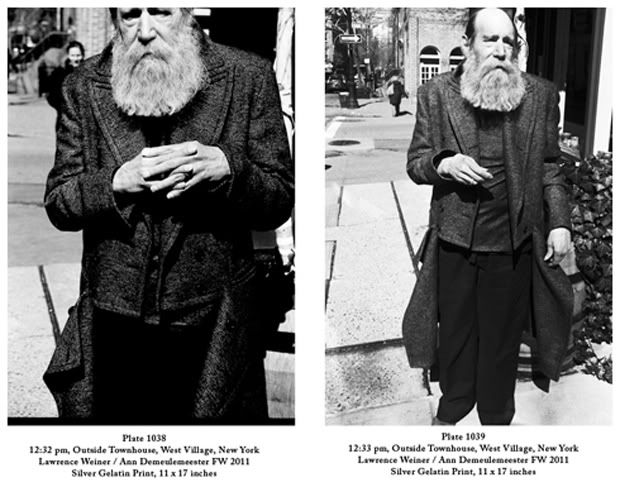 see the whole ditorial
here
Maybe not artists, but still charming unexpected models:
Isabella Blow in Hiroaki Ohya by Mika Ninagawa, 2000, and Helena Bonham Carter in Marc Jacobs by Juergen Teller, 2011
via theplayground and thefashionspot
And a very young
Matthew Barney
, when art wasn't an option yet and modeling paid for Medicine courses at Yale University.

Matthew Barney for JCrew, via selfportrait